We offer custom-made traditionally handcrafted statues made in Patan, Nepal. Indeed, it is a special challenge working together with the artisan to make the vision of our customer come true. However, over many years we have developed strong relationships with the artisans. As a result, we were able to specially create this custom Yellow Jambhala statue with antique copper finish. It was well worth the time and effort to see it through from beginning to end.
The Benefits of a Custom-Made Statue



This Yellow Jambhala statue was initially out of stock and required a custom order. However, a custom recreation allows for improvements to better suit the customer's taste. Additionally, the process is fast and easy requiring only 2-3 weeks additional time. From start to finish we share photos with the customer, seeking feedback and improving the statue.
The result is always rewarding. Indeed, Nepali statues always look better in person. As a result, the finished statue exceeded the customer's expectations. Their extra investment is always well worth the effort.
Creation Process of Custom Yellow Jambhala Statue
A replica of the statue is first hand carved out of wax. The benefits of working with wax are that it holds its form so well and can be easily manipulated. As a result, the most intricate facial features and components of this statue are possible to create. In contrast, raw metal or stone is very difficult to work with and fine details are impossible.
After the clay mould covering the statue is removed, the unfinished deity is revealed. Additionally, metal surfaces are polished and the parts are assembled. The form of Yellow Jambhala on snow lion mount begins to emerge.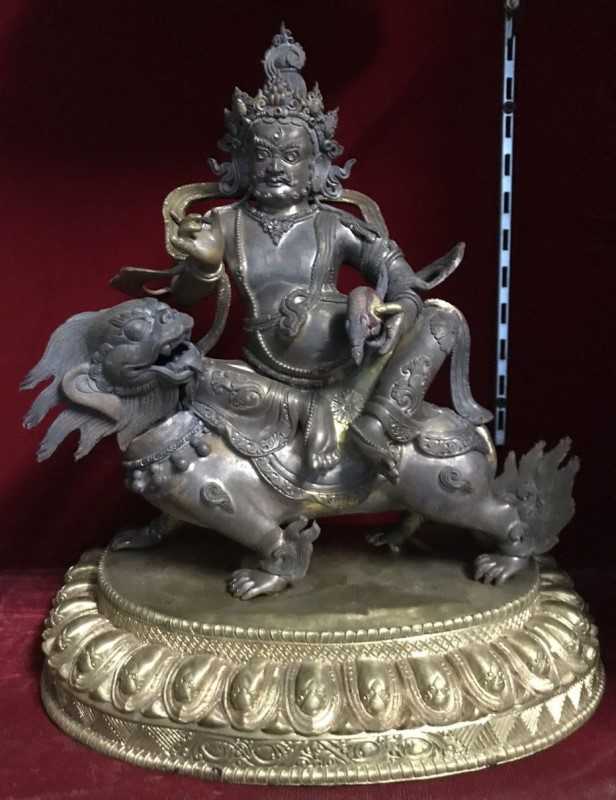 The end result of the lost wax creation process reveals life like qualities. This includes the face of Yellow Jambhala, his snow lion mount, banner of victory, jewel spewing mongoose and the flames of pristine wisdom.
They all look realistic! Each feature is alive with a radiant glow. This is only possible with a traditional lost wax sculpture created by a Nepali master artisan.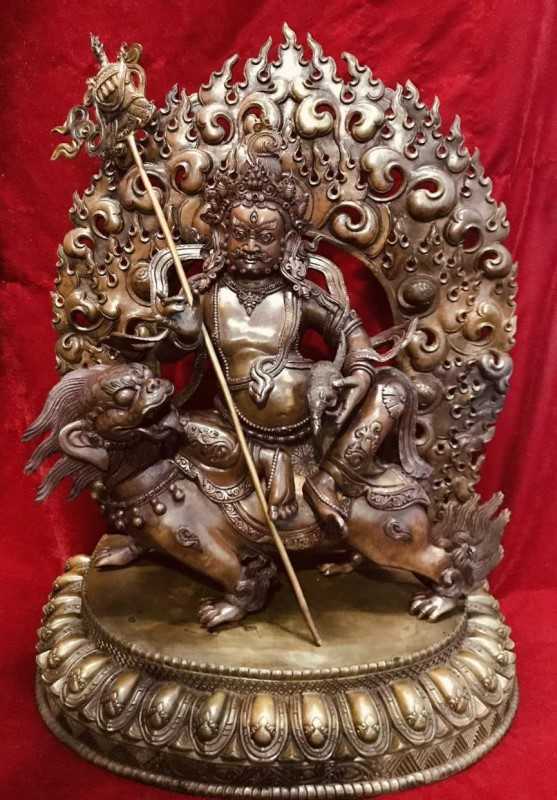 Lost Wax Sculpture is the Heritage of Nepal
Family castes in Nepal have protected the secrets of lost wax sculpture creation for many centuries. As a result, Nepal has remained as the workshop producing the best handicrafts for the Tibetan monasteries. Indeed, the skilled craftsmen of Nepal have long been their source of statues and ritual items. This synergy of Nepali handicrafts and Tibetan Buddhism has been combined in unison since the 10th century.
All authentic Nepali statues come with a certificate of guarantee from the Department of Archaeology in Kathmandu, Nepal. When you buy an authentic Nepali statue rest assured that you have procured a monastic quality sculpture.